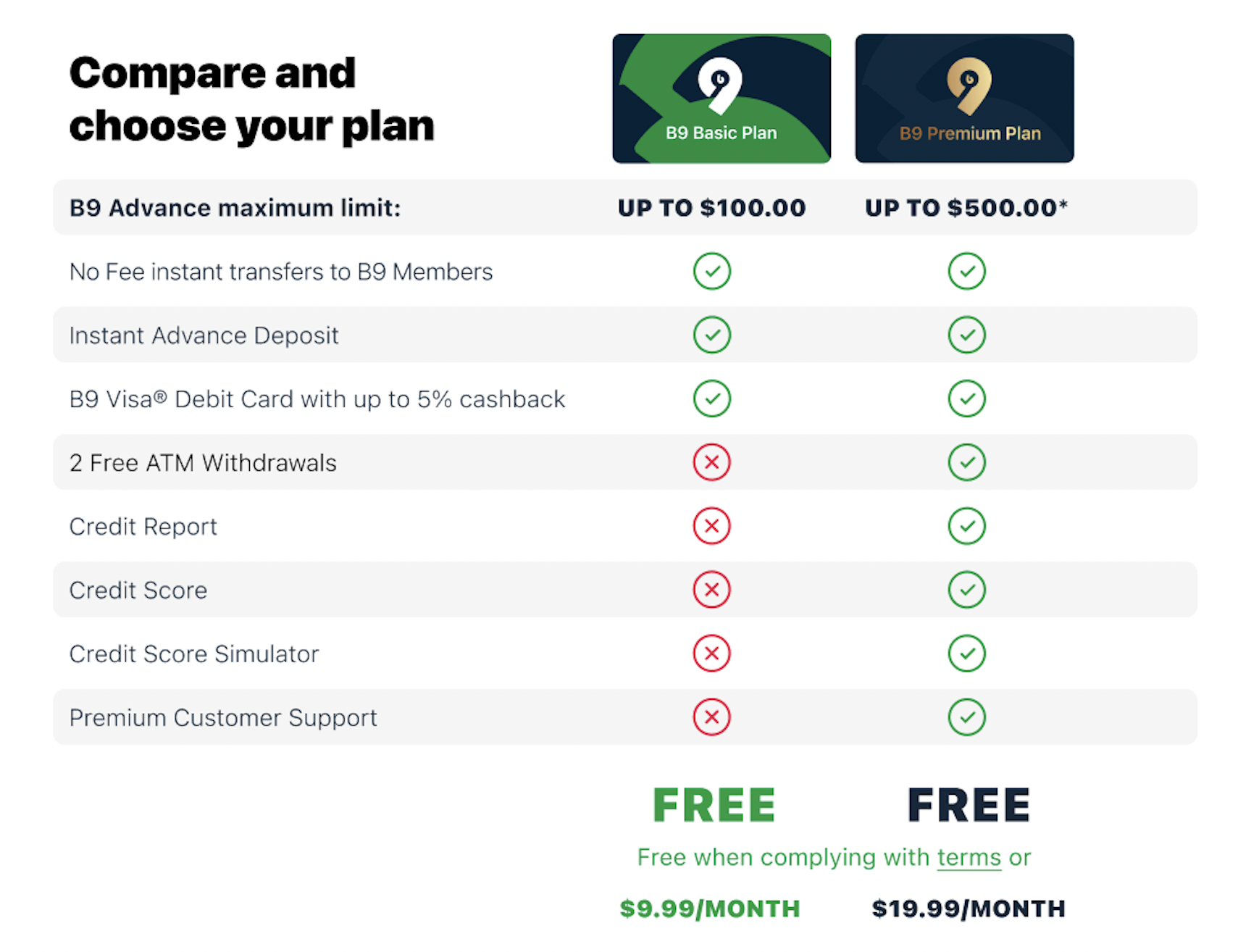 As a financial services app, B9 offers two different membership plans to its customers: Basic and Premium. In this article, we will take a closer look at these plans, what products do they offer, and how to switch between them.
1. Basic Plan
The B9 Basic Plan includes access to both the B9 Account, the B9 Card and instant advance deposit up to 100$ as soon as you meet the requirements, and it comes with a subscription fee of $9.99 per month. It is worth noting that the initial membership fee will be charged after the completion of the first month, allowing you a trial period of one month to experience the advantages of the product. B9 reserves the right to change or waive any subscription fee for the use of the B9 Account and B9 Card at any time with prior notice in accordance with applicable law.
It is important to note that the membership fee only covers the B9 account and does not include any additional fees for external wallet transfers and ATM withdrawals. However, we do not charge any additional fees for internal member to member transfers, ACH transfers, or the advance service we offer.
2. Premium Plan
For $19.99 per month, the B9 Premium Plan includes all the features of the B9 Basic Plan, plus more. With the B9 Premium Plan, customers have access to their credit report, credit bureau score, and a credit score simulator, along with 2 free ATM withdrawals* and Premium Customer Support. Additionally, customers who opt for the B9 Premium Plan may be offered higher advance limits (up to $500) compared to those with the regular B9 Basic Plan, which offers up to $100.
To switch to the B9 Premium Plan, simply go to the Profile tab of the app and click on your current plan to bring up the different options. Then, select the B9 Premium Plan and follow the prompts to switch.
*B9 ATM fee of $2.5 will be waived, please note that the ATM owner may still apply additional fees.
3. Premium 3 Months
You can also get the Premium Plan at a 20% discount ($16/month) for a 3-month package, bringing the total cost to $48. This plan includes all the features of the B9 Premium Plan, and it is a great way to save some money while still enjoying the added benefits.
4. Free Plan
If you deposit $5000 or more of your income into your B9 account, we will waive the B9 Membership fee (either $9.99 or $19.99). Deposits from multiple employers and government benefits also count towards this qualification.
Please ensure that the deposits are recognized as income to qualify for the waiver. If you have any questions about the eligibility of your deposits, please reach out to our customer support team for clarification.
Once you meet the qualification criteria, the next membership charge will be canceled. However, please note that previous charges will not be refunded.
It is important to keep in mind the following:
Automatic plan renewal: your membership will automatically renew at the end of each cycle, unless you make changes to your plan.
Switching from the Premium Plan to the Basic Plan: in this case your account will remain on the Premium Plan until the end of your current membership cycle. After your membership expires, your account will revert back to the Basic Plan.
No matter which plan you choose, B9 is committed to providing its customers with a reliable and convenient financial services platform. If you have any questions or need assistance, B9 offers multiple ways to contact their customer support team. You can reach out through the in-app support feature, email at support@bnine.com, or call their customer service line at (888) 297-5504.
Related article Membership Fee refund